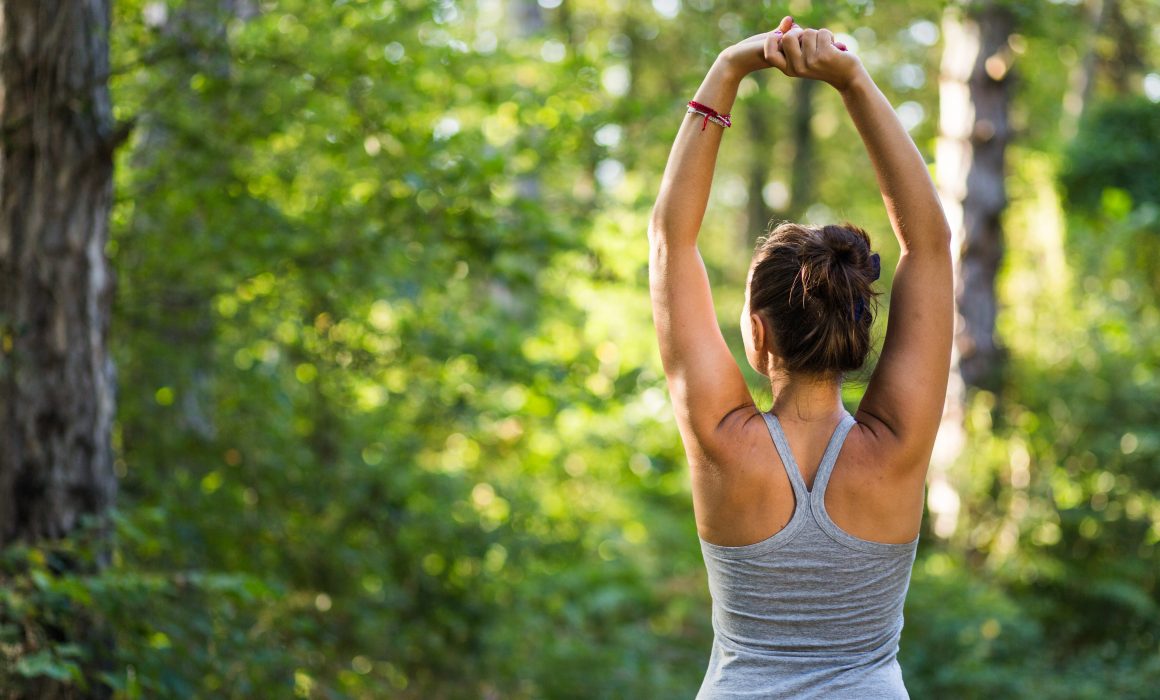 Photo: Shutterstock
It's the beginning of a brand-new year and just about every person I'm speaking to has plans to get fit and eat better so they can look and feel better. This year is no different to any other, where I'm seeing a massive surge in people attending the gym. There's always spike in attendance through January and into the first few weeks of February, then it all drops off. News.com.au conducted a poll last year that showed around 553,000 Australian fitness club members don't use their membership once per month and only 56% go at least once a week. These wasted fees add up to a whopping $1.8 billion.
I've got to confess, while I live and breathe a healthy lifestyle, working out in the gym isn't my preferred way to move. My philosophy is; "All you need is a comfortable outfit, a pair of sneakers and or a yoga mat and you're good to go." I love exercising outdoors, in the comforts of my home or where I'm staying during travel and if there's some amazing running trails close by, I'm in movement heaven!
 So, I thought I'd put together some of my favourite movement choices to help you create momentum and moveWELL through 2019.
Start by working out what movement you LOVE
Humans are designed to move and to resist moving in ways they hate. Forget about the latest fitness craze of what works wonders for others. Find a movement routine you enjoy, you can discover your fitness personality by taking this fun quiz the 8 colours of fitness developed by Suzanne Brue, inspired from Myers Briggs.
You can have the best program in the world but if you don't follow it, it's not going to give you results. Finding movement, you love and consistently doing it will yield the best results that are sustainable. Still stuck for ideas? Read on.
Walk while you wait
If nothing floats your boat right away, walk while you wait. Walking is an underrated but effective way to meet your daily movement quotient and a fantastic way to explore the area you're in, discover nature reserves, walking trails, neighbourhoods and city streets, besides who knows what interesting alternatives might cross your path while you're out and about?
On your bike
Do you remember that feeling of freedom you experienced as a child riding a bike? There's nothing like the feeling of the wind in your face when riding a bike.
During the summer I love getting on my bike and going for a ride and when traveling, some of my travel highlights have been from days when I've hired a bike and explored the local area, trails and cities. I get around quicker, my feet don't get sore from stomping around and it takes me back to nostalgic memories of childhood holidays, only as an adult I get to stop where and when I want and arrive home when I feel like it.
There's some incredible mountain bike trails to explore, Single Tracks have put together an extensive list of the best mountain bike trails in Australia.
Yoga
Yoga has been around for centuries, it brings together mind and movement. There's a misconception that you have to be flexible to do yoga, this isn't the case and there's a yoga practice to suit everyone. I first started yoga to help with tight muscles in my chest and shoulders from spending long hours in front of the computer. What I didn't expect was the many other benefits that came with it. I found my focus improved, I became calmer and responded better to stressful situations, I slept better and as I became fitter it helped me with my other love; trail running, to keep me injury free. Yoga offers a range of benefits that goes well beyond the mat. According to health line there's 13 science backed benefits to practicing yoga.
Running
This wouldn't be a movement article written by me if it didn't have running in it. Running and Yoga are as much a part of my life as breathing. I've loved running since I was a child, I used to be the school champion for cross country running so it's no surprise that today I love trail running. Although there were many years that I didn't run and when I first started to get back into it, I couldn't even run 2km without my knee hurting so much I had to stop. Running, just like walking is a low cost, convenient way to move that requires little to no equipment. It's perfect for increasing your cardiovascular fitness and managing and maintaining your ideal body composition.
For some interesting facts and myth busters on running check out this article by The Running Bug
The key components to any movement routine are:
It's at least 30 minutes in duration
It elevates your heart rate
It incorporates a combination of resistance, flexibility and weight baring activity
It's enjoyable
Some other activities you may like to try and include:
SUP – Stand Up Paddle Board
Swimming
Dancing
Tai Chi
Qi Gong
If you're keen to build motivation and momentum in 2019 and are ready for a habit breaking, energy building challenge that helps you to be more accountable, more productive and inspire you to go the distance you will be keen to know that I am launching my first solo authored book; The 30-day Momentum Maker Challenge very soon.
It started out as a plan I developed from my years of health and wellness coaching to get myself and others out of a funk and into flow. It turned into an online challenge, then morphed into a book. If you'd like to be one of the first to know and grab a copy hot off the press, register your interest here: http://eepurl.com/gbUo_j